Alien™
Alien™ HT Solid Zirconia
---
Alien HT Solid Zirconia is our bestselling Solid Zirconia Crown. All of our crowns are made in the USA, with the highest quality materials. All of our Alien Solid Zirconia crowns are pre-shaded ensuring consistent shade match. Our Full Solid Zirconia Crown is rated among the highest in Translucency and Strength. 
Recommended Region: Posterior 
Yttrium Content: Y3 (Class 5)
Customer Reviews
Filter Reviews:
crown
Alien Milling
patient
adjustments
life
margins
world
artist
Europe
people
Mark E.
United States
I recommend this product
11/11/2020
Full contour zirconia
Three thumbs up!
Hector M.
United States
I recommend this product
11/04/2020
Alien HT solid Zir.
Great help for my small lab. Thanks !
Gabriel P.
Canada
I recommend this product
10/27/2020
Poor shading
Trying out product for the first time; 4-unit bridge. Fit is good on our printed model; very questionable aesthetics. For being high translucency, it looks like chalk. I used my VITA Easyshade to test the ceramic colour; came back with a consistent C4 to A4 when we asked for A3.5 (it's very grey in hue). Not the best first experience so far.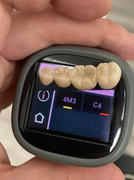 Oscar B.
United States
I recommend this product
10/15/2020
Like the product
Excellent Zirconia
Maria K.
United States
10/02/2020
Great crown no adjustment needed dropped crown in and cemented.
---
Share this Product
---
Other great brands
What is the turn-around time from order to shipping out? What kind of shipping do you use? Thank you :)

One Day for Milling from STL File.
We currently offer Post office and Fedex Shipiing services.

Do you have to design the crown yourself? I just bought a 3D scanner and I was hoping to scan a. Triple tray and you design and send me back a eMax or zirc crown.

You would have to upload the scan on the "Alien Designs" product page.
https://alienmilling.com/products/alien-full-contour-designs-anti-gravity

Then order a milling service of your choice.
Please make sure you input the same reference numbers for both products.

Do you charge for shipping? I would be sending impression for crown

Yes We do.
Please refer to our shipping page.

https://alienmilling.com/pages/shipping

Saro, With 3 shape Trios, do i just send you the scan via communicate? Then, i pay for the units online? Then you will match the file with the payment. Complete order and send crowns to me?

That is correct

Do you charge sales tax?

Yes, unless you send your Resale Certificate to our Company Email. (Can be found on our Support Page)

how can I send the work to your lab

Please watch this short video on how we operate.

https://alienmilling.com/pages/how-to-send-a-case

for implant cases for screw retained crowns, can we scan the scan body and you make the crowns with abutment?

We do not manufacturer or order abutments.

I want to download a case #6 to 11 single units how do i do it

if they are seperate STL Files, You will need to fill multiple prescriptions to upload each stl indivdually.

If it is a single file STL, you will need to fill only one prescription, and adjust the number of units to "6". Same applies for models, impressions, and digital impressions.

whats the mpa?

1250 MPa

How does this work?

The use of this website is for Dental professionals, Please see our How to page on How it works.

https://alienmilling.com/pages/how-to-send-a-case

This is a bridge. Where do we specify bridge?

Let us know in the "Specific Instructions" and "Number of Units" inside the prescription. We do not upcharge for bridges.

Hello! Can i upload files from cercon eye?!

If you are able to export your jaw scans as STL Files, then you can click on "Upload Jaw Scans - Design Service"

Can you please send or email lab slips with one of our cases?

All Lab Slips are transmitted digitally via our website.

Do your crowns arrive fully complete with stain & glaze, or must I do that on my end? I would prefer it arriving complete. Thanks

You can choose to have your crowns delivered with Stain and Glaze. 
You will need to select this option under the "Finishing" Section

Can you create a 10 tooth bridge if I sent you the stone mold of the patient ?

Yes we can do that 
Just make sure your model, is sectioned, articulated, and die trimmed. 

Thank you

I'm looking to have a crown made Maryland Style with the metal wings to attach to existing teeth can you provide that option and if so how much would that cost?

We can provide a maryland bridge in Zirconia. Each wing will be considered a unit. 


On a bridge are we charged for model cost per unit.Or for just one time?

Per unit, because we are scanning and designing each unit. 

how do we get free crown friday promo?

Sign up to our newsletter. 

What about dark stump shades? Will your full zirconia HT cover dark stumps?

The Alien HT does a nice job in covering dark stump shades.  It is the least translucnet out of all the Alien Products.  IF the patient has an extremely dark stump, the doctor may use opalescent cement 

I have the Sirona Inlab system, and I am downloading files on to dropbox and sharing them with a milling center now. Can you do the same thing? The end up as i.lab files.

No we only accept STL Files.

Turn around time for trios uploaded file. Located in AZ

2 Business Days without stain and glaze.
3 days with Stain and Glaze.

How do I get the Free Friday Deal?

Subscribe to our newsletter.
Form is located at the bottom of every page.

Do you accept .obj files?

No, but you can use a free open source software like blender to convert your obj to stl.

First time uploading an STL file I have designed the case as facial cutback with 3shape ,my software setup with argen material HT plus what do I choose from the menu. Thanks

You just have to ensure that the "Drill Radius" is set to at least 0.65mm